Canadian Historic Sites: Occasional Papers in Archaeology and History No. 14


The B.C. Mills Prefabricated System: The Emergence of Ready-made Buildings in Western Canada
by G. E. Mills and D. W. Holdsworth
Conclusion
Whereas earlier prefab building systems, particularly sectional or "knock-down" ones, are studied in the past tense as transitory curiosities, the system described in this paper remains a visible part of western Canada's human landscape. In fact it is through the remarkably diverse examples found throughout Vancouver, southwestern British Columbia and the prairie provinces that much of the documentation for this study has been obtained. The significance of structures such as those illustrated in the report may be viewed in two ways.
Their link to earlier prefabricated building systems, particularly those of the American West, was obvious. Mahony's invention may be seen as a late — perhaps even final — stage of this tradition, a sophisticated and durable application of prefabricated techniques to frontier markets. By the same token, its sudden demise may be explained as a natural death to which all preceding ready-made systems had been subject, as the initial pioneer stage gave way to increasingly self-supporting regional development. Within this context, Mahony's system is of particular interest for its close interrelationship with both the emerging west-coast lumber industry and with the railroad-oriented settlement patterns of the Canadian West.
A case may also be made for suggesting that Mahony's system represented a fascinating link in the evolution of western Canadian vernacular architecture. B. C. Mills factory prefabrication of permanent dwellings constituted a major departure from the preceding era of individual craftsman-built housing, and anticipated the standardized mass-production so common in present-day buildings. This new scale of production along with the versatility inherent in the system made it an ideal medium for the dissemination of building styles throughout western Canada. Vernacular styles evolving in the Vancouver area during the first decade of the century were reflected in standard designs marketed in the firm's catalogue; similarly, classical bank images previously restricted to major urban centres were rendered common sights in many of the smallest prairie settlements within a four-year period.
Although the B. C. Mills prefab system enjoyed a relatively short production life, its impact as an enduring part of western Canada's early architectural heritage is testified by the survival of so many of the structures 70 years after their manufacture.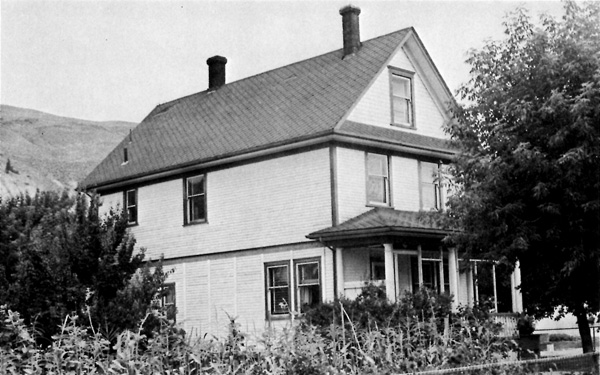 (Warren Summer.)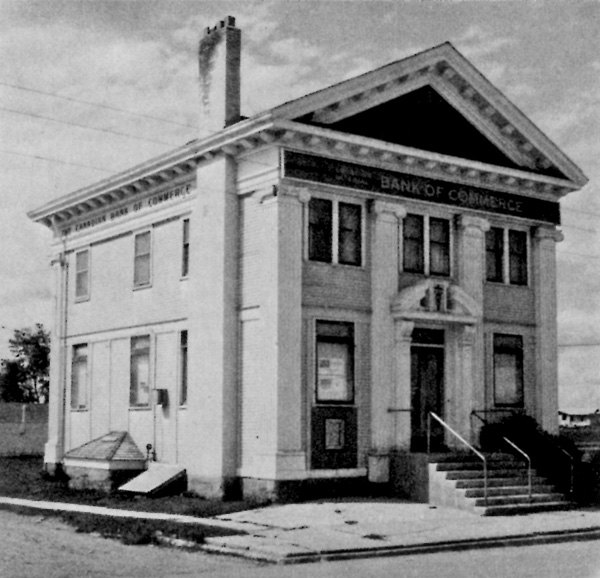 (Canadian Imperial Bank of Commerce.)